Our New Native Instruments Stand
Sunday, 22 February 2015 | Admin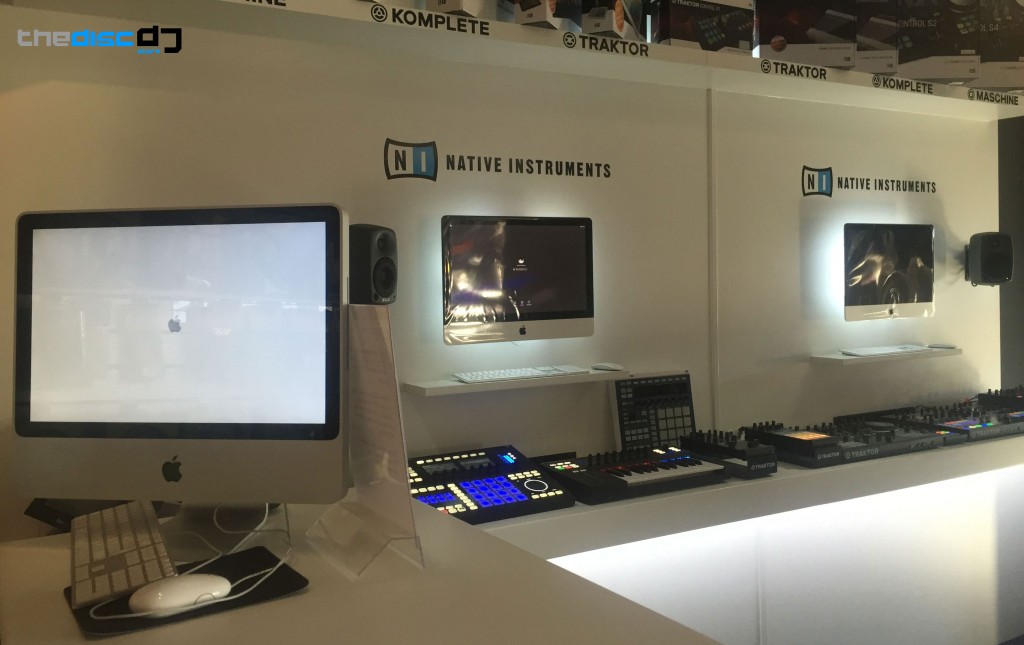 Native Instruments Stand Now Fully Functioning!
We have been a little creative since the turn of the new year and done a complete revamp on our website which we hope you will love but we never stopped there. Over the past 12 months we have seen a huge uplift in enquiries for DJ controllers across the board but none more than the mighty Native Instruments, some might say the creators of all things digital media. We took some time out to work out the best way to give this power house some much needed presence in our busy DJ store in Bradford.
Que the handy man, the Native Instruments rep, sheets of wood and serious amounts of coffee! Now fast forward a weeks planning and a weeks disruption to the DJ Store and we have our brand new New Native Instruments Stand looking beautiful and of course fully functioning.
This high quality modern stand is somewhat a centrepiece to our store and something we are extremely proud of. The thing to remember when it comes to DJ controllers is not to become complacent and realise there are so many options available to budding DJs depending upon what they are looking for. This was the driving force behind our decision to create a demonstration stand suitable to showcase the entire arsenal of products available. We love getting stuck into all of our products and how better than to give a hands on demo of the hardware and software in use than on our very own unique Native Instruments stand.
A little intro about the brand, Native Instruments are industry leaders in digital media controllers meaning CD's or Vinyl are a thing of the past, hence the large Imac computers you can see on our stand. The power of the software is only restricted by the versatility of the controllers with almost a decade since they first entered the market have come a very long way.
The stand is kitted out with the latest gadgets and technology from Native Instruments all ready for an on hand demo from our experienced DJs and engineers 6 days a week, we would love for you to come to a scheduled demo or give us a call to arrange a time to come down and see any of the controllers in action.
Our job and part of the very reason we have seen growth of almost 40% in this brand alone in the past year is because we find the controller to match the DJ not the other way round. Too many times we have heard people say i want this specific controller because my mate uses it. Times have changed and industry standard is not so much about working with Pioneer CDJs anymore it is about turning up with your digital record box and making best use of it. This is the entire background and reason why we find DJs not only direct from Bradford but throughout the country getting in touch with us today to see the demos from our Native Instrument stand. The brand is versatile, creative and completely customisable meaning the possibilities are almost endless.
Just take a look at the two snippets below to see how fun and exciting these brand new products are...
Traktor Kontrol S4 Mk2
The Native Instruments Traktor Kontrol S4 MK2 is the perfect DJ controller for anyone wanting to use Traktor Pro or Traktor DJ software. Building on from the success of the original S4. The Traktor S4 MK2 brings a whole load of new functionality to the classic design including colourised pads, a useful feature that lets you visually identify your hot cues and loops, being able to assign any colour to one of the RGB pads makes it a lot easier for you to memorize certain parts of your tracks.
There is also a new flux mode button - when this is engaged triggering cue point and loops becomes momentary, when you release the trigger the playhead will return to to the position it would have been at if nothing was pressed. For example you could hot cue a vocal or a breakdown in a track and keep jumping back to those points for remixing on the fly.
Traktor Kontrol X1 Mk2
The new Traktor Kontrol X1 MK2 builds on the success of the popular X1, now with the addition of multi purpose ribbon strips to give you complete control.
TRAKTOR KONTROL X1 is the compact performance controller designed for perfect TRAKTOR integration. Equally powerful for DJing in the box or using timecode control, its plug-and-play connectivity gets you set up fast. Robust knobs and buttons give you instant, tactile control over all essential DJ functions. A multi-purpose touch strip keeps you in direct control without ever having to reach for your turntable or CDJ, perfect for quick, precise pitch bending and innovative effects control.