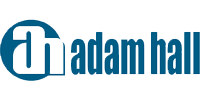 In 1975, Mr Adam Hall founded Adam Hall Ltd. in the English city of Southend-on-Sea (near London) as a manufacturer of high-quality, robust flight case fittings. Today, more than 45 years later, Adam Hall Group has developed into a global manufacturer and distributer, with comprehensive solutions for the event technology industry. Since then, numerous new brands have been developed and created at the current company location in Neu-Anspach, Hesse, Germany. As an international distribution company and service provider for more than 30 well-known brands, Adam Hall Group has been impressing its customers and business partners with its strong and sustainable concepts for decades. For the innovative and diverse event industry.
Adam Hall Products from The Disc DJ Store
We are an authorised dealer for Adam Hall, please browse below to view all of our Adam Hall products.
Solid and durable construction
Ergonomic handling
Compact transportation
M20 screw at the bottom and 35mm top

Speaker Pole & Fork Set (for LD Systems Dave 15 G3

| | | |
| --- | --- | --- |
| | | Only 1 in stock, immediate despatch |

£65.00£70.00

£65.00

Adjustable width 310 - 490mm
Max load 2x 25kg
Bottom hole is for 35mm pole
Solid steel


Mounting fork for speaker poles.

| | | |
| --- | --- | --- |
| | | Only 1 in stock, immediate despatch |

£39.00

£39.00

Solid and durable construction
Ergonomic handling
Compact transportation
M20 screw at the bottom and 35mm top

M20 screw bottom and 35mm top speaker pole

| | | |
| --- | --- | --- |
| | | Only 1 in stock, immediate despatch |

£27.50£31.00

£27.50

6.3mm TRS Jack to XLRm
Balanced audio cable

Balanced audio cable, 6.3mm Jack TRS to XLRm

| | | |
| --- | --- | --- |
| | | In stock, immediate despatch |

£12.99

£12.99

Fits mics 45 - 49mm / 5/8" thread

Fits mics 45-49mm dam / 5/8" thread

| | | |
| --- | --- | --- |
| | | In stock, immediate despatch |

£19.99

£19.99

Steel tray with isolating foam rests
Height adjustable in 12 cm increments from 91.5 cm to 150 cm
Increased safety provided by a T-screw and locking pin
35/40 mm tubes, black powder coated
Includes mounting screws, Allen key, plastic feet and a steel spike set

Thanks to its adjustable Height & Width the Adam Hall Laptop Stand will offer every DJ flexibility to the fullest!

| | | |
| --- | --- | --- |
| | | In stock, immediate despatch |

£65.00£89.00

£65.00

Adjustable height & width

Thanks to its adjustable Height & Width the Adam Hall Laptop Stand will offer every DJ flexibility to the fullest!

| | | |
| --- | --- | --- |
| | | In stock, immediate despatch |

£24.99£27.50

£24.99

Reduce bass and rumble
Good for small and medium monitors
Angled or flat monitor positions

Reduce feedback in your studio with these isolation pads, good if you have your monitors on a desktop.

| | | |
| --- | --- | --- |
| | | In stock, immediate despatch |

£16.49£19.99

£16.49

Reduce bass and rumble
Good for medium and large monitors
Angled or flat monitor positions

Reduce feedback in your studio with these isolation pads, good if you have your monitors on a desktop.

| | | |
| --- | --- | --- |
| | | In stock, immediate despatch |

£26.99£28.49

£26.99