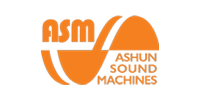 ASM (Ashun Sound Machines) is about creating musical instruments that empower musicians to unleash their creativity and expressiveness. Design, ease of use, quality of sound, fun factors are at the core of their products.
Striving to bring you the most forward thinking products on the market.
The ASM team is made up of talent with different backgrounds and cultures who share the same mindset. To bring many collective years of experience together to form a unique team. Their passion is to make products that customers are proud to own.
We are an authorised dealer for Ashun Sound Machines browse below to view all of our ASM products.
8-voice polyphonic digital wave morphing synthesizer
POLYTOUCH™ Polyphonic Aftertouch, Note on/off velocity keyboard with 37 mid-sized keys
Battery powered operation using 8xAA batteries (not included)
MPE (MIDI Polyphonic Expression) compatible
Microtuning support via MIDI Tuning Standard files

The same engine as it's bigger brother but compact & battery powered!

| | | |
| --- | --- | --- |
| | | Only 1 in stock, immediate despatch |

£489.00£578.00

£489.00

16-voice polyphonic digital wave morphing synthesizer
Single/Multi Dual/Keysplit voicing options
POLYTOUCH™ Polyphonic Aftertouch, Note on/off velocity keyboard with 73 full-size keys
MPE (MIDI Polyphonic Expression) compatibility
Multi function ribbon controller (Modulation, Pitch bend, Theremin mode)

The new flagship HydraSynth with 73 full size keys & polytouch

| | | |
| --- | --- | --- |
| | | Only 1 in stock, immediate despatch |

£1,529.00£1,701.00

£1,529.00

24 Polyphonic velocity sensitive pads
3 Oscillators
Wavemorphing, pick 8 waves and morph from one to the next
Filter one has 11 different modes, Filter two is a continuous sweep, low, band or high pass
5 LFO's, 5 DAHDSR envelopes

Digital desktop synth with polyphonic aftertouch pads

| | | |
| --- | --- | --- |
| | | Only 1 in stock, immediate despatch |

£679.00£699.00

£679.00

49 Polyphonic velocity sensitive keys with aftertouch
3 Oscillators
Wavemorphing, pick 8 waves and morph from one to the next
Filter one has 11 different modes, Filter two is a continuous sweep, low, band or high pass
5 LFO's, 5 DAHDSR envelopes

Digital 49-key synth with polyphonic aftertouch

| | | |
| --- | --- | --- |
| | | Only 1 in stock, immediate despatch |

£1,149.00£1,299.00

£1,149.00