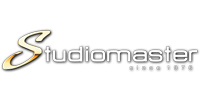 Studiomaster is a renowned brand in the world of audio equipment and professional sound solutions. With a history dating back to the 1970s, Studiomaster has consistently delivered high-quality audio products for musicians, DJs, recording studios, and live sound applications. The brand is synonymous with innovation and reliability, offering a diverse range of products, including mixing consoles, amplifiers, speakers, and audio processors.
Studiomaster Products from The Disc DJ Store
Studiomaster's commitment to cutting-edge technology and meticulous craftsmanship has earned it a loyal global following. Musicians and audio professionals trust Studiomaster for its exceptional sound clarity, robust build quality, and versatility. Whether in a studio, on stage, or in a club, Studiomaster's gear ensures top-notch audio performance. As a brand with a legacy of excellence, Studiomaster continues to shape the future of audio production and reinforcement.
We are an authorised dealer for Studiomaster, please browse below to view all of our Studiomaster products.
Bluetooth connectivity
Built-in USB/SD media player
Footswitch connection
16 DSP effects
2 stereo channels, 8 mic channels, 12 inputs

Studio mixing desk with DSP effects

| | | |
| --- | --- | --- |
| | | In stock, immediate despatch |

£229.00£299.00

£229.00

Bluetooth connectivity
Built-in USB/SD media player
Footswitch connection
16 DSP effects
2 stereo channels, 6 mic channels, 10 inputs

Studio mixing desk with DSP effects

| | | |
| --- | --- | --- |
| | | In stock, immediate despatch |

£189.00£253.00

£189.00

Bluetooth connectivity
Built-in USB/SD media player
Footswitch connection
16 DSP effects
2 stereo channels, 2 mic channels, 6 inputs

Compact & affordable mixing desk with DSP effects

| | | |
| --- | --- | --- |
| | | Estimated restock is 5-30 days |

£139.00£189.00

£139.00

Compact & easy to use
Built-in USB/SD media player
Footswitch connection
16 DSP effects
2 stereo channels, 4 mic channels, 8 inputs

Compact & affordable mixing desk with DSP effects

| | | |
| --- | --- | --- |
| | | In stock, immediate despatch |

£159.00£215.00

£159.00

Compact, robust build
Balanced output/input sockets
Analogue style operation
Intuitive controls all located on the front panel
Assignable footswitch input

4-channel digital mixer, the perfect solution for small bands

| | | |
| --- | --- | --- |
| | | In stock, immediate despatch |

£204.00£304.00

£204.00

Compact, portable design yet powerful (1030w RMS)
Built-in mixer with Bluetooth
DSP effects, reverb, delay, limiter etc..
4 Input channels: 2x Mic/Line, 1x Hi-Z, 1x RCA/Bluetooth
Sub cover & column carry bag included

10" Active speaker with 4-channel mixer, Bluetooth & Reverb effects.

| | | |
| --- | --- | --- |
| | | Only 1 in stock, immediate despatch |

£649.00£739.00

£649.00

Compact, portable design yet powerful (1080w RMS)
Built-in mixer with Bluetooth
DSP effects, reverb, delay, limiter etc..
4 Input channels: 2x Mic/Line, 1x Hi-Z, 1x RCA/Bluetooth
Sub cover & column carry bag included

12" Active speaker with 4-channel mixer, Bluetooth & Reverb effects.

| | | |
| --- | --- | --- |
| | | Estimated restock is 5-30 days |

£749.00£819.00

£749.00