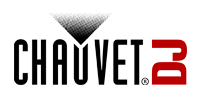 Premier Lighting for DJ's, Bars & Club applications
Transform Your Event with Chauvet DJ Lighting and Effects
Elevate your performance and event with innovative lighting and effects from Chauvet DJ, a renowned brand in the industry. Chauvet DJ brings professional lighting to your fingertips, offering an extensive range of products designed to illuminate your DJ setup or event to its full potential. Here, we explore the variety of products provided by Chauvet DJ at The Disc DJ Store.
Chauvet DJ: Pioneers in Lighting Solutions
Recognised worldwide, Chauvet DJ strives to create top-tier DJ lighting solutions. Whether for concerts, clubs, or special events, Chauvet DJ's product line offers an array of lighting options that can dynamically transform any environment, enhancing performances and turning ordinary moments into extraordinary experiences.
Chauvet DJ ILS Command, ILS Controller
Chauvet DJ ILS Command, ILS Controller, is a versatile lighting control system designed to bring vibrancy and dynamism to your light shows. It allows users to light up the night with minimal setup time, lending more room for creativity and performance.
Chauvet DJ Cosmos HP, LED Effect Light
The Chauvet DJ Cosmos HP, LED Effect Light, is designed to create stunning aerial effects. With its razor-sharp beams, this LED effect light can add an extra dimension to your lighting, creating breathtaking visual experiences for audiences.
Chauvet DJ GigBAR Move ILS, 5in1 Lighting Bar Mover
The Chauvet DJ GigBAR Move ILS, a 5in1 Lighting Bar Mover, is the ultimate lighting system for mobile DJs. Combining Derby, Wash, Laser & Strobe effects provides an all-in-one solution for versatile and dynamic lighting.
Chauvet DJ Intimidator Spot Series, Moving Heads
The Intimidator Spot Series by Chauvet DJ provides mobile performers with high-impact lighting options. With models like the 360X, 375ZX, and 260X, these moving headlights offer feature-packed solutions that give performances a lighting punch.
Chauvet DJ Swarm Wash FX ILS & Swarm 5 FX ILS
The Chauvet DJ Swarm series offers diverse LED effect lights. From the 4-in-1 rotating derby effects of the Swarm Wash FX ILS to the 3-in-1 RGBAW rotating derby effects of the Swarm 5 FX ILS, these products contribute significantly to dynamic light shows.
Chauvet DJ EZLink Par Series
For wireless and battery-operated solutions, the Chauvet DJ EZLink Par series offers quad-colour LED Pars with Bluetooth capabilities, perfect for uplighting applications.
Chauvet DJ D-FI XLR Pack, Wireless DMX & Chauvet DJ D-FI XLR RX, Wireless DMX Receiver
For those looking to make any DMX-compatible light wireless, Chauvet DJ offers the D-FI XLR Pack and the D-FI XLR RX. These products take DMX control from wired to wireless, allowing more freedom for the light show creativity.
Chauvet DJ offers a comprehensive selection of professional lighting solutions that cater to various needs and preferences. From controllers and LED effect lights to wireless DMX systems, Chauvet DJ empowers artists and DJs to take their performances and events to the next level. As an authorised dealer, The Disc DJ Store is your go-to destination for the latest Chauvet DJ products.
We are an authorised dealer for Chauvet DJ, browse below to view all of our Chauvet DJ Lighting products.
Pelican-style case designed to efficiently transport a GigBAR from show to show
Dedicated space for the fixture, tripod, foot switch, RF remote and multiple DFi-USB and DFi-XLRs
High strength polypropylene material is water-resistant and resistant to damage
Custom molded interior ensures a damage-free transportation experience
Built-in wheels make movement stress-free

Hard case for Chauvet DJ GigBAR lighting system.

| | | |
| --- | --- | --- |
| | | Incoming, expected 15/10/2023 |

£255.00

£255.00

Unique and versatile free-standing LED array that adds pizazz to any event
Slip on frosted tubes allow for 2 completely different looks
Half of the stick can be deactivated to provide a 180° effect saving battery life
Built-in 3-pin DMX connectors make control compatible with other DMX enabled fixtures
Battery-powered and built-in D-Fi receiver allows the stick to be placed anywhere

Freedom Stick X4 is bundle of four unique and versatile free-standing LED array lights.

| | | |
| --- | --- | --- |
| | | In stock, immediate despatch |

£749.00£750.00

£749.00

COB (Chip-on-Board) LED produces a full spectrum of light with unsurpassed color mixing
ILS compatibility for use in the ILS ecosystem
D-Fi USB compatibility for wireless Master/Slave or DMX control
Included magnetic Fresnel lens allows the flexibility to go from ultra-wide to narrow beam in seconds
Withstand the harshness of traveling from gig to gig with a robust housing

60-watt quad-color (RGBW) COB (Chip-on-Board) LED.

| | | |
| --- | --- | --- |
| | | Only 2 in stock, immediate despatch |

£193.00£195.00

£193.00

4-in-1 light that includes a pair of LED Derby, LED pars, a laser, and strobe effect
Added UV in pars and strobes for increased color mixing and effects
Cover any room or stage with 4 individually adjustable and interchangeable heads
Get in and get out quickly with the included tripod, wireless footswitch and carry bags
Ready for every application using the included mounting brackets to attach to truss

4-in-1 lighting system for mobile DJ's

| | | |
| --- | --- | --- |
| | | Only 1 in stock, immediate despatch |

£709.00£810.00

£709.00

5-in-1 lighting system that includes moving heads, derbies, washes, a laser and strobe effect pre-mounted on a single bar
Integrated Lighting System (ILS) is a complete lighting ecosystem technology that provides an advanced, coordinated light show across multiple fixture types
Control any ILS-enabled fixture wirelessly with built-in D-Fi transceiver
Use the included RF remote to trigger the built-in shows without needing line of sight
Separate color and gobo wheels in moving heads allow for creative programming

The ultimate lighting system for mobile DJ's

| | | |
| --- | --- | --- |
| | | Only 1 in stock, immediate despatch |

£1,649.00£1,830.00

£1,649.00

5-in-1 lighting system that includes moving heads, derbies, washes, a laser and strobe effect pre-mounted on a single bar
Integrated Lighting System (ILS) is a complete lighting ecosystem technology that provides an advanced, coordinated light show across multiple fixture types
Control any ILS-enabled fixture wirelessly with built-in D-Fi transceiver
Use the included RF remote to trigger the built-in shows without needing line of sight
Powerful moving heads with separate color and gobo wheels allow for creative programming

The future of easy lighting synchronization is here

| | | |
| --- | --- | --- |
| | | Estimated restock is 5-30 days |

£2,099.00£2,240.00

£2,099.00

This bundle includes 1 x Command ILS, 2 x Swarm 5 FX ILS, 2 x Kinta FX ILS & 4 x D-Fi USB
Built-in D-Fi transmitter controls an unlimited number of ILS-enabled fixtures
Customize, save and recall presets without using DMX
Backlit silicon buttons provide a tactile response in dark environments
Innovative follow spot mode highlights grand entrances without interrupting the rest of the show

The ultimate Chauvet DJ ILS bundle

| | | |
| --- | --- | --- |
| | | Estimated restock is 5-30 days |

£1,139.00£1,319.00

£1,139.00

Durable, soft-sided bag designed to transport LED strip lights from show to show
Protects your investment and simplifies load-in
Increase storage flexibility with an internal, removable divider that separates the bag into 2 compartments
Safeguard your fixtures during transport with padded, internal compartments
Simplify transport with the convenient handle and shoulder strap

Padded protective bag for lighting

| | | |
| --- | --- | --- |
| | | Only 2 in stock, immediate despatch |

£24.90£28.00

£24.90

5-in-1 lighting system that includes moving heads, derbies, washes, a laser and strobe effect pre-mounted on a single bar
Separate color and gobo wheels in moving heads allow for creative programming
Totem Mode keeps the moving heads focused on the dance floor
Easy navigation and access to all functions, directly from the full-color LCD display
System includes a tripod, wireless footswitch and FREE carry bags to ensure quick setup

5-in-1 lighting system for mobile DJ's

| | | |
| --- | --- | --- |
| | | In stock, immediate despatch |

£695.00£780.00

£695.00

5-in-1 lighting system that includes moving heads, derbies, washes, a laser and strobe effect pre-mounted on a single bar
Integrated Lighting System (ILS) is a complete lighting ecosystem technology that provides an advanced, coordinated light show across multiple fixture types
Control any ILS-enabled fixture wirelessly with built-in D-Fi transceiver
Use the included RF remote to trigger the built-in shows without needing line of sight
Powerful moving heads with separate color and gobo wheels allow for creative programming

The future of easy lighting synchronization is here

| | | |
| --- | --- | --- |
| | | Estimated restock is 5-30 days |

£1,035.00£1,120.00

£1,035.00

Powerful ILS controller capable of programing any ILS-enabled product
Built-in D-Fi transmitter controls an unlimited number of ILS-enabled fixtures
Customize, save and recall presets without using DMX
Backlit silicon buttons provide a tactile response in dark environments
Innovative follow spot mode highlights grand entrances without interrupting the rest of the show

Light up the night without setting up all day with ILS

| | | |
| --- | --- | --- |
| | | In stock, immediate despatch |

£319.00£329.00

£319.00

Multi-colored flame simulator emits a fake flame effect with no heat
Hex-color LEDs allow the flame to be almost any color for any application
Silk material is UV responsive and glows under blacklight
Compatible with the IRC-6 remote for wireless operation
Includes 3 legs for table support and a chain for suspension

This effect is hot, but emits no heat and is safe for use anywhere!

| | | |
| --- | --- | --- |
| | | Only 2 in stock, immediate despatch |

£111.00£129.00

£111.00

Durable, soft-sided bag designed to transport different types of fixtures from show to show
Easily transports all your gear using 2 internal and 1 external compartment
Main compartment stores lighting fixtures, side compartment stores cables, clamps and many other accessories
Increase storage flexibility by using the removable divider to create a single or double compartment
Safeguard your fixtures during transport with padded, internal compartments

Wireless Solution For DMX Capabilities

| | | |
| --- | --- | --- |
| | | Incoming, expected 15/10/2023 |

£29.00

£29.00

Includes removable adaptors to fit different sizes of truss
Wraps completely around truss for added security and stability
Made of ABS plastic which won't scuff, scratch or dent truss

Professional clamp for truss.

| | | |
| --- | --- | --- |
| | | In stock, immediate despatch |

£10.00

£10.00

Made of heavy duty material that lasts for years
Wraps completely around truss for added security and stability

​

Professional aluminium clamp for truss.

| | | |
| --- | --- | --- |
| | | In stock, immediate despatch |

£11.00

£11.00

Finger-sized wireless D-Fi transceiver provides instant wireless communication
Transfers DMX as well as master/slave signals between similar fixtures
Eliminates the need for DMX cables
Plugs directly into USB-compatible devices
Works without the need of an external power supply

Wireless Solution For DMX Capabilities

| | | |
| --- | --- | --- |
| | | Only 1 in stock, immediate despatch |

£35.99£38.00

£35.99

Multicolored paper refills for the Funfetti Shot confetti launcher
Contains two full launches that will add excitement anywhere
Five complementary colors in every box
Easy to transport and store in its packaging
Non-toxic, non-flammable, and ready to use right out of the box

​

Five complimentary colors in every box.

| | | |
| --- | --- | --- |
| | | In stock, immediate despatch |

£16.00

£16.00

Professional confetti launcher perfect for concerts, parties, or special events
Easy, single person setup and operation
No compressed air or CO2 required — just add confetti
Control easily from the display, the included wireless remote, or DMX
Works with most confetti types

Just add confetti! No compressed air or CO2 required.

| | | |
| --- | --- | --- |
| | | Only 2 in stock, immediate despatch |

£319.00£345.00

£319.00

Easy to use mirror ball simulator with high-power LEDs
Innovative grouping of 2 quad-colour LEDs (RGBW & CMYO) produces new colour combinations
Slow rotation speed creates a romantic atmosphere
Digital display allows you to set a colour and rotation speed without any controller
Mounts to truss with the included bracket or place it on a stand as a centrepiece

High-powered, easy to use mirror ball party light

| | | |
| --- | --- | --- |
| | | In stock, immediate despatch |

£249.00

£249.00

High-powered LED effect light generates crisp beams that cover the entire room
Narrow, razor-sharp beams of RGBW light produce astonishing aerial effects
Create swirling effects with independently controlled motors that spins continuously in both directions
Generate complex looks easily with built-in, eye-catching auto programs with zone control
Energetic, multicolored beams look great with or without fog

Razor sharp beams to create stunning aerial effects

| | | |
| --- | --- | --- |
| | | Only 1 in stock, immediate despatch |

£399.00£479.00

£399.00

5-in-1 lighting system that includes moving heads, derbies, washes, a laser and strobe effect pre-mounted on a single bar
Integrated Lighting System (ILS) is a complete lighting ecosystem technology that provides an advanced, coordinated light show across multiple fixture types
Control any ILS-enabled fixture wirelessly with built-in D-Fi transceiver
Use the included RF remote to trigger the built-in shows without needing line of sight
Separate color and gobo wheels in moving heads allow for creative programming

The ultimate lighting system for mobile DJ's

| | | |
| --- | --- | --- |
| | | Only 2 in stock, immediate despatch |

£849.00£915.00

£849.00

Compact moving head designed for mobile events
Built-in RF receiver for wireless control using the RFC or RFC-XL optional remotes
New home position allows for smoother programming
Dual rotating prisms split the beam for great effects and cover a larger area
Manual zoom for short or long throw applications

Give your mobile performances some lighting punch with the feature-packed Intimidator Spot 360X

| | | |
| --- | --- | --- |
| | | In stock, immediate despatch |

£919.00£920.00

£919.00

Compact moving head designed for large events
Built-in RF receiver for wireless control using the RFC or RFC-XL optional remotes
New home position allows for smoother programming
Dual rotating prisms split the beam for great effects and cover a larger area
Motorized zoom for short or long throw applications

Give your mobile performances some lighting punch with the feature-packed Intimidator Spot 375ZX

| | | |
| --- | --- | --- |
| | | In stock, immediate despatch |

£1,120.00

£1,120.00

100% TRUE wireless, battery-operated, quad-color (RGBA) LED Par with built-in Bluetooth® wireless technology
ILS compatibility for use in the ILS ecosystem
D-Fi USB compatibility for wireless master/slave or DMX control
Control directly from a smart phone or tablet without any additional hardware
Convenient, wireless non-DMX control using the IRC-6 remote

ILS Version. A wireless, battery-operated, quad-colour LED Par with Bluetooth® capabilities

| | | |
| --- | --- | --- |
| | | Only 1 in stock, immediate despatch |

£204.00

£204.00

Compact moving head designed for mobile events
New home position allows for smoother programming
Project crisp gobos from nearly any distance with the motorized focus
Manual zoom for short or long throw applications
Beams always remain on the dance floor using the built-in, innovative Totem mode

Give your mobile performances some lighting punch with the feature-packed Intimidator Spot 260X

| | | |
| --- | --- | --- |
| | | In stock, immediate despatch |

£649.00£675.00

£649.00

4-in-1 LED light that combines an RGBAW rotating derby, RGB+UV wash, red/green laser, and a ring of white SMD strobes
Endless possible looks with individual control of each effect via DMX and Master/Slave modes, or IRC-6
Improved menu structure for ease of use
Red and green laser beams project thousands of beams for maximum coverage
Quick set up with automatic and sound-activated programs

4-in-1 Rotating Derby, RGB+UV Wash, Red & Green Laser + SMD Strobe

| | | |
| --- | --- | --- |
| | | In stock, immediate despatch |

£258.00£299.00

£258.00

3-in-1 LED light that includes an RGBAW rotating derby, red/green laser, and white strobe effect
ILS compatibility for use in the ILS ecosystem
D-Fi USB compatibility for wireless Master/Slave or DMX control
Laser projects thousands of red and green laser beams
Operation allows for separate color and program control

3-in-1 LED inc. RGBAW rotating derby, red/green laser, and white strobe

| | | |
| --- | --- | --- |
| | | In stock, immediate despatch |

£219.00£220.00

£219.00

Formulated specifically for use in all water-based machines
Generates a thick cloud of fog
Will not stain or leave residue
Non-toxic, non-flammable and unscented
High quality fog fluid

High quality fog fluid for various machines.

| | | |
| --- | --- | --- |
| | | In stock, immediate despatch |

£19.00£20.00

£19.00

Formulated specifically for use in all water-based haze machines
Premium consistency and quality
Generates a thin mist of haze
Will not stain or leave residue
Non-toxic, non-flammable and unscented

High quality haze fluid for all water-based haze machines.

| | | |
| --- | --- | --- |
| | | In stock, immediate despatch |

£20.00

£20.00

Wireless, battery-operated, quad-color LED Par with Bluetooth® capabilities
Control directly from a smart phone or tablet without any additional hardware
Convenient, wireless non-DMX control using the IRC-6 remote
Amber LEDs create various colours and natural-looking temperatures
Generate eye-catching effects with sound-activated and automated programs

A wireless, battery-operated, quad-colour LED Par with Bluetooth® capabilities

| | | |
| --- | --- | --- |
| | | Only 2 in stock, immediate despatch |

£210.00

£210.00

Wireless remote control for all CHAUVET Freedom series and IRC products
Allows you to wirelessly select color, intensity, strobe rate and more
Provides instant access to pre-programmed light shows
Set individual color percentages to achieve exact color without a DMX controller
Compatible with various Chauvet DJ products

Easy-to-use infrared remote control for compatible fixtures.

| | | |
| --- | --- | --- |
| | | In stock, immediate despatch |

£8.70£10.00

£8.70

Wireless communication pack includes 1 transmitter, 3 receivers and 1 multi-charger
Multi-charger simultaneously charges up to 8 D-Fi XLRs
Contact pins charge all D-Fi XLRs without the need for any cables
Includes 2 additional USB ports to charge additional devices
Extremely light-weight, perfect for travel

Make any DMX-compatible light wireless!

| | | |
| --- | --- | --- |
| | | In stock, immediate despatch |

£239.00£299.00

£239.00