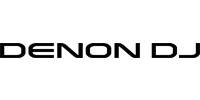 Denon DJ has been around since the dawn of the digital DJ and well before. Denon is a household name in audio equipment and since its break into the world of Djing many many years ago it has positioned itself at the top alongside Pioneer DJ and Technics as the potential alternative to the industry standard. Denon will always be challenging the other big players in the world of DJ controllers, mixers, decks etc, all because of their pedigree to perfection.
Denon DJ Deliver Outstanding Sound Quality on Every Single Product
Whenever a new industry standards is set Denon are always in the race to be crowned king as they deliver outstanding sound quality on every single product yet carry superb innovation and value for money. Priced on the higher side of the market you feel a sense of superiority when it comes to the Denon DJ range. The headphones are designed and built from "on the job" experience whereas the mixers, decks and controllers provide a diverse range of features not seen on comparative ranges.
Denon DJ products will always be challenging for the top spot and with their latest range. They are always a centerpiece at every roadshow and pride themselves on innovation and being the better alternative. This is why we love Denon DJ products and you see them partnered with some of the biggest software makers on the plant, i.e Serato. You'll find all the latest Denon equipment here at The Disc, including the Denon Prime 4.
We stock studio and DJ equipment from all of the leading brands and are authorised dealers for many of them. With over 30 years of combined DJ/studio experience we are very proud of what we have achieved at The Disc DJ Store and hope you enjoy browsing our website. We are able to give you the best advice and guidance possible when it comes to finding the right item. Everyone who works here has a passion for music, DJing and the equipment itself, and can point you in the right direction if you need assistance.
We are sure most of you will have a solid understanding of what it is you need, but if you need some help, all you need to do is call 01274 394 730. Customer satisfaction is paramount to The Disc DJ Store, as you will see if you have read our Trust Pilot reviews. Take advantage of the knowledge we possess and get in touch with The Disc DJ Store today. One of our experienced team will always be happy to help you.
We are an authorised dealer for Denon DJ, please browse below to view all of our Denon products.
4-Deck standalone DJ controller for computer-free DJ performances
10.1-inch HD multi-touch display
Wi-Fi music streaming for access to millions of tracks from Amazon Music Unlimited, TIDAL, Beatsource, Beatport, Soundcloud GO+, Dropbox
Embedded Sampler with 16 pad-triggered sample slots, volume control, and output routing
Touch FX for interactive touchscreen audio manipulation

The world's most advanced DJ System just got even better! STEM control coming summer 2023.

| | | |
| --- | --- | --- |
| | | In stock, immediate despatch |

£2,050.00£2,199.99

£2,050.00

4-Deck standalone DJ controller for computer-free DJ performances
10.1-inch HD multi-touch display
Wi-Fi music streaming for access to millions of tracks from Amazon Music Unlimited, TIDAL, Beatsource, Beatport, Soundcloud GO+, Dropbox
Embedded Sampler with 16 pad-triggered sample slots, volume control, and output routing
Touch FX for interactive touchscreen audio manipulation

The world's most advanced DJ System, bundle deal with speakers and headphones.

| | | |
| --- | --- | --- |
| | | In stock, immediate despatch |

£2,399.00£2,423.94

£2,399.00

Fully-featured, backpackable 2-deck smart DJ console
7-inch HD touchscreen with gestures
Rechargeable lithium-ion battery for up to 4 hours of unplugged performance
Built-in Wi-Fi and wired internet connectivity for music streaming
Dual-bank performance pads for triggering hot-cues, loop and roll No-compromise, pro-grade audio and connectivity RCA aux input for media players, tablets and phones

Battery powered, Wi-Fi streaming - an essential bit of kit for mobile DJ's

| | | |
| --- | --- | --- |
| | | Only 1 in stock, no more available |

£949.00£1,139.99

£949.00

World's first DJ integration with Amazon Music Unlimited (free trial included)
Standalone Controller - no laptop required, powered by Engine OS
Built-in Wi-Fi for music streaming, cloud access and Engine DJ OS updates
Serato DJ Pro license included, Virtual DJ compatible (not included)
7" HD Touchscreen with multi-gesture support

Includes Amazon Music trial - & Serato DJ Pro Licence

| | | |
| --- | --- | --- |
| | | In stock, immediate despatch |

£849.99£929.99

£849.99

World's first DJ integration with Amazon Music Unlimited (free trial included)
Standalone Controller - no laptop required, powered by Engine OS
Built-in Wi-Fi for music streaming, cloud access and Engine DJ OS updates
Serato DJ Pro license included, Virtual DJ compatible (full license required)
7" HD Touchscreen with multi-gesture support

Includes Amazon Music trial - & Serato DJ Pro Licence

| | | |
| --- | --- | --- |
| | | Only 2 in stock, immediate despatch |

£1,049.00£1,099.99

£1,049.00

Flagship standalone professional DJ media player powered by ENGINE OS
8.5-inch motorised-platter with torque adjustment
New vinyl design with quick release lock
HD 10.1-inch touchscreen
Built-in Wi-Fi and wired internet connectivity for music streaming

Vinyl turntablism meets supreme digital power

| | | |
| --- | --- | --- |
| | | Estimated restock is 5-30 days |

£3,398.00£3,399.98

£3,398.00

Dedicated sub-layer control for SC PRIME Media Players
DJ Controller for Virtual DJ, Algoriddim djay Pro AI & Serato DJ Pro
8.5" jog wheel with tension adjust
HD colour jog wheel display
USB Powered, plug & play

A pair of controller decks & a mixer

| | | |
| --- | --- | --- |
| | | Only 1 in stock, immediate despatch |

£2,499.00£2,579.97

£2,499.00

4-channel, multi-assignable input, Pro DJ Club Mixer
16 pro-level BPM FX with new FX Quantise control
'MIDI Start with Clock' feature for syncing external instruments
Expressive EQ—choose Classic or Isolation modes and an adjustable filter resonance control
Rugged, smooth channel line faders

Full 4-Deck control with Denon DJ's Prime Series

| | | |
| --- | --- | --- |
| | | Only 1 in stock, immediate despatch |

£4,475.00£5,779.95

£4,475.00

4-channel, multi-assignable input, Pro DJ Club Mixer
16 pro-level BPM FX with new FX Quantise control
'MIDI Start with Clock' feature for syncing external instruments
Expressive EQ—choose Classic or Isolation modes and an adjustable filter resonance control
Rugged, smooth channel line faders

Full 4-Deck control with Denon DJ's Prime Series

| | | |
| --- | --- | --- |
| | | Estimated restock is 5-30 days |

£4,775.00£5,979.95

£4,775.00

Dedicated sub-layer control for SC PRIME Media Players
DJ Controller for Virtual DJ, Algoriddim djay Pro AI & Serato DJ Pro
8.5" jog wheel with tension adjust
HD colour jog wheel display
USB Powered, plug & play

Four controller decks & a mixer

| | | |
| --- | --- | --- |
| | | Only 1 in stock, immediate despatch |

£3,299.00£3,779.95

£3,299.00

8.5" jog wheel with tension adjust
HD colour jog wheel display
(8) Multi-function performance pads • Dedicated loop control
Dedicated navigation control
100mm dual-precision pitch fader

Great bundle for Serato , Includes Serato DJ Pro Software

| | | |
| --- | --- | --- |
| | | Only 2 in stock, immediate despatch |

£1,489.00£1,659.97

£1,489.00

Dedicated sub-layer control for SC PRIME Media Players
DJ Controller for Virtual DJ, Algoriddim djay Pro AI & Serato DJ Pro
8.5" jog wheel with tension adjust
HD colour jog wheel display
USB Powered, plug & play

Ultra-versatile DJ Controller

| | | |
| --- | --- | --- |
| | | In stock, immediate despatch |

£499.00£599.99

£499.00

Dedicated sub-layer control for SC PRIME Media Players
DJ Controller for Virtual DJ, Algoriddim djay Pro AI & Serato DJ Pro
8.5" jog wheel with tension adjust
HD colour jog wheel display
USB Powered, plug & play

Ultra-versatile DJ Controllers

| | | |
| --- | --- | --- |
| | | Only 2 in stock, immediate despatch |

£1,198.00£1,199.98

£1,198.00

Flagship standalone professional DJ media player powered by ENGINE OS
HD 10.1-inch touchscreen
Built-in Wi-Fi and wired internet connectivity for music streaming
Built-in internal HDD drive bay to store music onboard
8.5-inch jog wheel with large surface area for platter manipulation

Denon DJ's flagship multi-media player & a dual layer controller

| | | |
| --- | --- | --- |
| | | Only 2 in stock, immediate despatch |

£1,549.00£2,199.98

£1,549.00

4-channel, multi-assignable input, Pro DJ Club Mixer
16 pro-level BPM FX with new FX Quantise control
'MIDI Start with Clock' feature for syncing external instruments
Expressive EQ—choose Classic or Isolation modes and an adjustable filter resonance control
Rugged, smooth channel line faders

Denon flagship player & mixer set with a dual layer controller

| | | |
| --- | --- | --- |
| | | Only 1 in stock, immediate despatch |

£2,849.00£3,579.97

£2,849.00

Flagship standalone professional DJ media player powered by ENGINE OS
8.5-inch motorised-platter with torque adjustment
New vinyl design with quick release lock
HD 10.1-inch touchscreen
Built-in Wi-Fi and wired internet connectivity for music streaming

Denon DJ's flagship motorised multi-media player & a dual layer controller

| | | |
| --- | --- | --- |
| | | Only 1 in stock, immediate despatch |

£1,699.00£2,299.98

£1,699.00

4-channel, multi-assignable input, Pro DJ Club Mixer
16 pro-level BPM FX with new FX Quantise control
'MIDI Start with Clock' feature for syncing external instruments
Expressive EQ—choose Classic or Isolation modes and an adjustable filter resonance control
Rugged, smooth channel line faders

Denon flagship motorised player & mixer set with a dual layer controller

| | | |
| --- | --- | --- |
| | | Only 1 in stock, immediate despatch |

£2,999.00£3,679.97

£2,999.00

Flagship standalone professional DJ media player powered by ENGINE OS
HD 10.1-inch touchscreen
Built-in Wi-Fi and wired internet connectivity for music streaming
Built-in internal HDD drive bay to store music onboard
8.5-inch jog wheel with large surface area for platter manipulation

Th ultimate main stage media player for pro DJ's

| | | |
| --- | --- | --- |
| | | Only 1 in stock, immediate despatch |

£3,098.00£4,399.96

£3,098.00

4-channel, multi-assignable input, Pro DJ Club Mixer
16 pro-level BPM FX with new FX Quantise control
'MIDI Start with Clock' feature for syncing external instruments
Expressive EQ—choose Classic or Isolation modes and an adjustable filter resonance control
Rugged, smooth channel line faders

The ultimate package for creative DJ's

| | | |
| --- | --- | --- |
| | | Only 1 in stock, immediate despatch |

£4,475.00£4,579.97

£4,475.00

4-channel, multi-assignable input, Pro DJ Club Mixer
16 pro-level BPM FX with new FX Quantise control
'MIDI Start with Clock' feature for syncing external instruments
Expressive EQ—choose Classic or Isolation modes and an adjustable filter resonance control
Rugged, smooth channel line faders

The ultimate package for creative DJ's

| | | |
| --- | --- | --- |
| | | Estimated restock is 5-30 days |

£4,775.00£4,779.97

£4,775.00

Flagship standalone professional DJ media player powered by ENGINE OS
HD 10.1-inch touchscreen
Built-in Wi-Fi and wired internet connectivity for music streaming
Built-in internal HDD drive bay to store music onboard
8.5-inch jog wheel with large surface area for platter manipulation

Th ultimate main stage media player for pro DJ's

| | | |
| --- | --- | --- |
| | | Only 2 in stock, immediate despatch |

£1,549.00£1,599.99

£1,549.00

Flagship standalone professional DJ media player powered by ENGINE OS
8.5-inch motorised-platter with torque adjustment
New vinyl design with quick release lock
HD 10.1-inch touchscreen
Built-in Wi-Fi and wired internet connectivity for music streaming

Vinyl turntablism meets supreme digital power

| | | |
| --- | --- | --- |
| | | Only 1 in stock, immediate despatch |

£1,699.00£1,699.99

£1,699.00

4-channel, multi-assignable input, Pro DJ Club Mixer
16 pro-level BPM FX with new FX Quantise control
'MIDI Start with Clock' feature for syncing external instruments
Expressive EQ—choose Classic or Isolation modes and an adjustable filter resonance control
Rugged, smooth channel line faders

The centrepiece for creative DJ's

| | | |
| --- | --- | --- |
| | | Only 1 in stock, immediate despatch |

£1,175.00£1,379.99

£1,175.00

Fully-featured, backpackable 2-deck smart DJ console
7-inch HD touchscreen with gestures
Rechargeable lithium-ion battery for up to 4 hours of unplugged performance
Built-in Wi-Fi and wired internet connectivity for music streaming
Dual-bank performance pads for triggering hot-cues, loop and roll No-compromise, pro-grade audio and connectivity RCA aux input for media players, tablets and phones

Battery powered DJ Controller with M-Audio BX5 D3 DJ speakers and leads

| | | |
| --- | --- | --- |
| | | In stock, immediate despatch |

£1,199.00£1,309.95

£1,199.00

Fully-featured, backpackable 2-deck smart DJ console
7-inch HD touchscreen with gestures
Rechargeable lithium-ion battery for up to 4 hours of unplugged performance
Built-in Wi-Fi and wired internet connectivity for music streaming
Dual-bank performance pads for triggering hot-cues, loop and roll No-compromise, pro-grade audio and connectivity RCA aux input for media players, tablets and phones

Battery powered, Wi-Fi streaming - an essential bit of kit for mobile DJ's

| | | |
| --- | --- | --- |
| | | In stock, immediate despatch |

£924.00£1,099.99

£924.00

Fully-featured, backpackable 2-deck smart DJ console
7-inch HD touchscreen with gestures
Rechargeable lithium-ion battery for up to 4 hours of unplugged performance
Built-in Wi-Fi and wired internet connectivity for music streaming
Dual-bank performance pads for triggering hot-cues, loop and roll No-compromise, pro-grade audio and connectivity RCA aux input for media players, tablets and phones

Battery powered, Wi-Fi streaming - an essential bit of kit for mobile DJ's

| | | |
| --- | --- | --- |
| | | Estimated restock is 5-30 days |

£1,099.00£1,234.98

£1,099.00