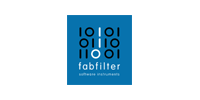 FabFilter is a leading manufacturer of software in the music industry.
Explore FabFilter Products at The Disc DJ Store
Welcome to The Disc DJ Store, a leading retailer for FabFilter, a premium brand in the music production industry. Our collection includes the best FabFilter plugins that can transform your audio projects.
Perfect Your Creativity with FabFilter
FabFilter is renowned for its high-quality audio plugins, providing solutions for mixing and mastering, equalization, and dynamic processing. Whether you're an audio engineer or a music producer, FabFilter plugins can help enhance your production capabilities.
The Disc DJ Store offers a comprehensive range of FabFilter products. Designed for simplicity and performance, these plugins will elevate your audio production to professional standards.
Secure the Best Deals with Our Price Match Promise
Value is central to The Disc DJ Store. We offer a price match promise to ensure you get the best value for your purchase. With us, you can invest in FabFilter plugins knowing that you're getting the best deal.
Trust The Disc DJ Store for Your FabFilter Needs
Choose The Disc DJ Store for all your FabFilter requirements. We are committed to offering quality products and exceptional service. With our range of FabFilter plugins, we are here to support you in achieving your audio production goals.
We are an authorised dealer for FabFilter, please browse below to view all of our FabFilter products.
Full immersive / Dolby Atmos® functionality up to 9.1.6
Vintage & Plate reverb styles
Impulse Response file import
Thickness, Ducking and Auto Gate controls
Freeze button for endless playback of captured reverb buffer

High quality reverb plug-in from Fabfilter

| | | |
| --- | --- | --- |
| | | In Stock, Digital Delivery |

£169.00

£169.00

Fully redesigned, highly simplified interface, with an easier workflow
Improved the oscillator and filter sound quality. 4th oscillator added too
Introduced large Filter Freq/Peak offset knobs
Added high quality effects section
Four versatile filters with filter panning and adjustable slope and shape

Sonically versatile, supremely intuitive, and spectacularly 'analog'

| | | |
| --- | --- | --- |
| | | In Stock, Digital Delivery |

£109.00£129.00

£109.00

Various interface sizes and full screen mode
Endless modulation options, with all the 16-step XLFOs, XY controllers, envelope generators, envelope followers and MIDI sources you will ever need
Introduced Drive setting per filter, adjusting the internal filter saturation, which allows for much more variety in sound and smoothness
Improved the sound quality of overall feedback, the filters, and internal saturation
Live modulation visualization for targets and sources

Erupting with characher and vintage quality

| | | |
| --- | --- | --- |
| | | In Stock, Digital Delivery |

£99.00£129.00

£99.00

Eight different compression styles, of which five are new in version 2: Vocal, Mastering, Bus, Punch and Pumping
External side chain triggering
Side-chain EQ section, with customizable HP and LP filters, plus an additional freely adjustable filter
Custom knee, variable from hard knee to a 72 dB soft knee (to enable saturation-like effects)
Stereo and mono plug-ins available
Available in VST, VST3, Audio Units, AAX Native and AudioSuite formats (all both 64-bit and 32-bit)

Another industry standard compressor from Fabfilter.

| | | |
| --- | --- | --- |
| | | In Stock, Digital Delivery |

£134.00£169.00

£134.00

Great transparent sound combined with maximum loudness
True peak limiting
Adjustable look-ahead, attack and release settings
Surround support including Dolby Atmos 7.0.2 and 7.1.2 formats with flexible surround channel linking
Available in VST, VST3, Audio Units, AAX Native and AudioSuite formats (all both 64-bit and 32-bit)

High quality audio limiter from Fabfilter

| | | |
| --- | --- | --- |
| | | In Stock, Digital Delivery |

£144.00£169.00

£144.00

Up to six processing bands, freely placed anywhere in the spectrum
Global dry/wet mix from 0% to 200% to easily scale the total effect of the plug-in
High-quality audio processing algorithms with 64-bit internal processing where needed
Steepness of each crossover slope can be freely adjusted between 6 dB/oct and 48 dB/oct
Available in VST, VST3, Audio Units, AAX Native and AudioSuite formats (all both 64-bit and 32-bit)

Another industry standard multiband compressor from Fabfilter.

| | | |
| --- | --- | --- |
| | | In Stock, Digital Delivery |

£144.00£169.00

£144.00

Highest possible sound quality
Filter shapes: Bell, Notch, High/Low Shelf, High/Low Cut, Band Pass, Tilt Shelf, Flat Tilt
Optional piano roll display to quantize EQ frequencies to musical notes
Full surround support (up to Dolby Atmos 7.1.2) with intelligent speaker selection
Available in VST, VST3, Audio Units, AAX Native and AudioSuite formats (all both 64-bit and 32-bit)

Industry favourite 24 band dynamic equalizer with Dolby Atmos support.

| | | |
| --- | --- | --- |
| | | In Stock, Digital Delivery |

£110.00£169.00

£110.00

Huge saving with this bundle deal
Mac or PC

Get FabFilters most essential mixing tools in one value bundle

| | | |
| --- | --- | --- |
| | | In Stock, Digital Delivery |

£289.00£359.00

£289.00

Huge saving with this bundle deal
Mac or PC

Get FabFilters most invaluable tools for mixing and mastering

| | | |
| --- | --- | --- |
| | | In Stock, Digital Delivery |

£549.00£659.00

£549.00

Huge saving with this bundle deal
Mac or PC

Get all of FabFilters plug-ins at a massive discount

| | | |
| --- | --- | --- |
| | | In Stock, Digital Delivery |

£759.00£899.00

£759.00