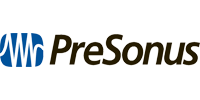 PreSonus is a leading audio electronics company that was founded in 1995. As one of the world's leading designers and manufacturers of audio recording and live sound software, the company has taken the world by storm. With just over 20 years of experience the PreSonus audio equipment is now used by DJs, clubs and music producers around the world. Why just listen to music, when you can live it with PreSonus.
THE DISC DJ STORE IS PROUD TO OFFER PRESONUS
As one the fastest growing audio electronic companies, PreSonus has developed some of the most well-known and reliable sound equipment in not only the music and DJ industry but the world. From speaker systems audio interface equipment and much more, PreSonus can take sound to the next level.
PreSonus are one of the sound giants of the industry, whether it's for commercial installs, mobile use or even PA speaker systems, there systems are unbeatable. Offering unique sound and ambience, the PreSonus systems should be the ones you purchase.
The Disc DJ Store have a close relationship with PreSonus and as an authorised reseller, we're able to offer some of the latest sound and audio equipment that they have available. All PreSonus audio equipment is developed and manufactured to some of the highest industry standards to ensure not only both a great looking piece of equipment but also a rich sound as well. When it comes to sound and speaker systems PreSonus are quickly cornering the market.
PRESONUS MAKES MUSIC FOR EVERYONE
Offering some of the latest audio and speaker systems from PreSonus including the PreSonus Audiobox IONE Audio Interface, the PreSonus R-Series R65 AMT Active Studio Monitors and the PreSonus Eris E5 Active Studio Monitors, we can ensure that our customers only have access to the best and most up to date equipment. Investing in PreSonus sound equipment turn music from just listening to it, to an immersive experience to enjoy.
When it comes to new sound equipment for your home or business, be sure to consider PreSonus. As one of the leading audio equipment companies the products they manufacture are recognised around the world. For Morermation on the PreSonus sound and audio equipment we offer, feel free to get in touch and one of The Disc DJ Store team will be more than happy to answer any questions that you might have.
We are an authorised dealer for PreSonus, please browse below to view all of our PreSonus products.
7-inch woven composite low-frequency transducer
1-inch (25.4 mm), ultra-low-mass, silk-dome, high-frequency transducer
100°(H) x 60°(V) EBM waveguide and ported enclosure
Tuning Controls for accurate mixing contour (Level, HPF, LF Trim, HF Trim, Acoustic Space)
140 Watt, Class AB bi-amplification drives up to 102 dB of sound

2-Way Active Studio Monitors with EBM Waveguide

| | | |
| --- | --- | --- |
| | | Only 1 in stock, no more available |

£219.00£350.00

£219.00

The only true studio monitor for multimedia, gaming, watching movies, or producing your next hit.
50 watts of Class D power for each speaker provides all the volume you want without ever sacrificing tonal balance or audio clarity
5.25-inch (133.35 mm) woven-composite drivers product a more powerful bass response accurately and smoothly.
1-inch (25 mm) ultra-low mass, silk-dome, high-frequency transducers provide a wide sweet spot for superior stereo imaging
Bluetooth 5.0 technology ensures high-fidelity wireless audio quality.

With 50 watts of Class D power for each speaker, they offer all the volume you want without ever sacrificing tonal balance or sonic clarity.

| | | |
| --- | --- | --- |
| | | No stock, discontinued |

£199.00£209.00

£199.00

10-inch, front-firing, glass-composite low-frequency transducer
Switchable highpass filter removes frequency content below 80 Hz from the full-range signal sent from the Temblor outputs to the main monitors
Momentary footswitch (included) bypasses the subwoofer, highpass filter, and Sub Out
250 watt, Class AB amplification
XLR subwoofer output for connecting a second Temblor® T10

Front-firing subwoofers are designed to deliver fast and accurate transient response

| | | |
| --- | --- | --- |
| | | Incoming, expected 31/10/2023 |

£329.00£379.00

£329.00

Balanced and unbalanced inputs
Advanced acoustic space settings
Custom designed AMT ribbon tweeter
Accurate monitoring on all frequencies
Kevlar low frequency drivers for clean punchy bass

Some of the best speakers we have ever heard!

| | | |
| --- | --- | --- |
| | | Only 1 in stock, no more available |

£159.00£199.00

£159.00

Recording Software included Studio One® and Studio Magic
Bus-Powered works great with both Apple® and Android™ devices
Connect an instrument and a microphone at the same time
Headphone connection to monitor your recording with zero latency
Speaker connections 2 balanced TRS 1/4" main outputs for studio monitors or speakers

Hit record & GO! - Small enough to fit in your pocket.

| | | |
| --- | --- | --- |
| | | Incoming, expected 31/10/2023 |

£66.00£69.00

£66.00

Ultra-compact, mobile bus-powered USB-C® compatible audio interface for recording, streaming, podcasting and more
Stand-alone functionality lets you take your sound with you
Integrated mixer lets you blend audio from up to three applications at once
Powerful onboard StudioLive processing lets you polish your sound (or completely transform it) with reverb, compression, EQ, and fantastic Voice FX — all without taxing your CPU
Connect nearly anything: mics, guitars, headsets, and stereo sources like DJ mixers

The ultra-compact recording and broadcast studio

| | | |
| --- | --- | --- |
| | | Only 1 in stock, immediate despatch |

£129.00£159.00

£129.00

Custom-designed, 6.8-inch, AMT tweeter responds to the subtlest waveforms and the highest frequencies for audiophile-grade air and space
6.5-inch LF drivers provide transparent mid- and low-frequency reproduction for clean, punchy bass
Biamped, 140 W RMS (LF = 75 W, HF = 65 W) Class A/B power amplifier with switching power supply
Acoustic tuning controls (Low cut, Mid, High, Acoustic Space) compensate for room acoustics and placement
Includes Studio Magic, a suite of over $1000 USD worth of music production software

Acoustic tuning controls and AMT tweeter for wide soundstage and astonishing transient response

| | | |
| --- | --- | --- |
| | | Incoming, expected 31/10/2023 |

£245.00£289.00

£245.00

Custom-designed, 6.8-inch, AMT tweeter responds to the subtlest waveforms and the highest frequencies for audiophile-grade air and space
8-inch LF drivers provide transparent mid- and low-frequency reproduction for clean, punchy bass
Biamped, 140W RMS (LF = 75 W, HF = 65 W) Class A/B power amplifier with switching power supply
Acoustic tuning controls (Low cut, Mid, High, Acoustic Space) compensate for room acoustics and placement
Includes Studio Magic, a suite of over $1000 USD worth of music production software

Acoustic tuning controls and AMT tweeter for wide soundstage and astonishing transient response

| | | |
| --- | --- | --- |
| | | Incoming, expected 31/10/2023 |

£340.00£369.00

£340.00

Custom-designed, 6.8-inch, AMT tweeter responds to the subtlest waveforms and the highest frequencies for audiophile-grade air and space
6.5-inch LF drivers provide transparent mid- and low-frequency reproduction for clean, punchy bass
Biamped, 140 W RMS (LF = 75 W, HF = 65 W) Class A/B power amplifier with switching power supply
Acoustic tuning controls (Low cut, Mid, High, Acoustic Space) compensate for room acoustics and placement
Includes Studio Magic, a suite of over $1000 USD worth of music production software

Acoustic tuning controls and AMT tweeter for wide soundstage and astonishing transient response

| | | |
| --- | --- | --- |
| | | Incoming, expected 31/10/2023 |

£470.00£686.98

£470.00

Custom-designed, 6.8-inch, AMT tweeter responds to the subtlest waveforms and the highest frequencies for audiophile-grade air and space
8-inch LF drivers provide transparent mid- and low-frequency reproduction for clean, punchy bass
Biamped, 140W RMS (LF = 75 W, HF = 65 W) Class A/B power amplifier with switching power supply
Acoustic tuning controls (Low cut, Mid, High, Acoustic Space) compensate for room acoustics and placement
Includes Studio Magic, a suite of over $1000 USD worth of music production software

Acoustic tuning controls and AMT tweeter for wide soundstage and astonishing transient response

| | | |
| --- | --- | --- |
| | | Incoming, expected 31/10/2023 |

£629.00£846.98

£629.00

Custom-designed, 6.8-inch, AMT tweeter responds to the subtlest waveforms and the highest frequencies for audiophile-grade air and space
6.5-inch LF drivers provide transparent mid- and low-frequency reproduction for clean, punchy bass
Biamped, 140 W RMS (LF = 75 W, HF = 65 W) Class A/B power amplifier with switching power supply
Acoustic tuning controls (Low cut, Mid, High, Acoustic Space) compensate for room acoustics and placement
Includes Studio Magic, a suite of over $1000 USD worth of music production software

Acoustic tuning controls and AMT tweeter for wide soundstage and astonishing transient response

| | | |
| --- | --- | --- |
| | | Incoming, expected 31/10/2023 |

£453.00£617.97

£453.00

Custom-designed, 6.8-inch, AMT tweeter responds to the subtlest waveforms and the highest frequencies for audiophile-grade air and space
8-inch LF drivers provide transparent mid- and low-frequency reproduction for clean, punchy bass
Biamped, 140W RMS (LF = 75 W, HF = 65 W) Class A/B power amplifier with switching power supply
Acoustic tuning controls (Low cut, Mid, High, Acoustic Space) compensate for room acoustics and placement
Includes Studio Magic, a suite of over $1000 USD worth of music production software

Acoustic tuning controls and AMT tweeter for wide soundstage and astonishing transient response

| | | |
| --- | --- | --- |
| | | Incoming, expected 31/10/2023 |

£565.00£777.97

£565.00

Balanced and unbalanced inputs
Advanced acoustic space settings
Custom designed AMT ribbon tweeter
Accurate monitoring on all frequencies
Kevlar low frequency drivers for clean punchy bass

Whether making a YouTube video or streaming live on Facebook, Revelator io24 is your partner from studio to stream.

| | | |
| --- | --- | --- |
| | | Only 1 in stock, immediate despatch |

£112.00£129.00

£112.00

Two products in one: audio interface and production controller
Record through two high-quality XMAX mic preamps
Control your favorite DAW with a touch-sensitive motorized fader and intuitive navigation controls
Compact, ergonomic design fits into any studio, whether in your bedroom or your backpack
USB-C™ compatible (USB 2.0), 24-bit/192 kHz audio interface

USB-C Audio Interface & Control Surface

| | | |
| --- | --- | --- |
| | | Only 1 in stock, immediate despatch |

£210.00£259.00

£210.00

Includes a 2x2 USB Audio Interface with MIDI I/O
A pair of HD7 Studio Monitoring Headphones
An M7 Condenser Microphone
Over $1000 worth of software

Complete recording kit - just add speakers and a computer

| | | |
| --- | --- | --- |
| | | Only 2 in stock, immediate despatch |

£141.00£199.00

£141.00

2 high-quality Class-A mic preamps make it easy to get a great sound
2 high-headroom instrument inputs to record guitar, bass, and your favorite line-level devices, plus MIDI I/O
Studio-grade converters for 24-bit/96 kHz recording and playback
Mixer control lets you create a custom blend between inputs and playback so you can monitor with zero latency
Studio One® Artist and Studio Magic Suite included

Limited edition of this fantastic interface

| | | |
| --- | --- | --- |
| | | Incoming, expected 31/10/2023 |

£70.99£89.00

£70.99

Professional bus-powered USB-C-compatible microphone for podcasting, streaming, vlogging, gaming, home recording, and more
96 kHz / 24-bit operation for pristine audio recording
Studio One Artist included
Studio Magic software bundle included
macOS® and Windows® compatible

Professional USB microphone for streaming, podcasting, gaming, and more

| | | |
| --- | --- | --- |
| | | Only 2 in stock, immediate despatch |

£115.24£169.00

£115.24

Large Main level control
3 Individual Main Source (ST1, ST2, Aux) select switches
3 Individual Speaker Select switches
Cue section with Source select (ST1, ST2, Aux) and output-level control
Aux-S/PDIF Select switch

Manage multiple audio sources and speakers all from your desktop

| | | |
| --- | --- | --- |
| | | Only 1 in stock, no more available |

£229.00£285.00

£229.00

Trigger loops and effects and play virtual instruments with 16 full-size, velocity- and pressure-sensitive RGB pads
MIDI Keyboard mode, Note Repeat mode, and Full Velocity mode to customize instrument control (Application dependent)
4 programmable rotary encoders and 20 assignable buttons, navigate and set more parameters faster
Pressure switchable between MIDI aftertouch, channel pressure, and CC messages
Selectable pad velocity curves and pad pressure thresholds
Includes Studio One Artist & Ableton Live Lite DAW software

Move quickly from programming drums to playing synth lines and so much more

| | | |
| --- | --- | --- |
| | | Only 1 in stock, immediate despatch |

£179.00£249.00

£179.00

The fastest Thunderbolt 3 audio interface around, with round-trip latency of less than 1 ms
8 front-mounted ultra-transparent XMAX analog mic preamps
High-definition 24-bit A/D/A conversion up to 192 kHz sampling rate
2 direct outputs with dedicated line-level returns for inserting output gear
Studio One® Artist and Studio Magic Plug-in Suite included

The fastest and best-sounding interface around, thanks to the jaw-dropping speed of Thunderbolt™ 3, 8 premium XMAX analog mic preamps, and pristine ADA converters.

| | | |
| --- | --- | --- |
| | | Incoming, expected 31/10/2023 |

£457.00£549.00

£457.00

3.5-inch, woven-composite, low-frequency transducer
1-inch (25 mm), ultra-low-mass, silk-dome, high-frequency transducer
50W (25W/side) Class AB amplification
Bluetooth 5.0 wireless stereo input
RCA and ¼-inch balanced TRS rear-panel inputs

Quality desktop speakers, ideal for general use. Bluetooth connectivity.

| | | |
| --- | --- | --- |
| | | Only 1 in stock, no more available |

£94.99£109.00

£94.99

16 touch-sensitive, 100 mm long-throw, motorized faders
16 Scribble Strip displays
Complete recording-transport controls: Play, Stop, Fast Forward, Rewind, Record, Loop
Drop Marker, Next/Prev Marker, Next / Prev Event
General session controls: Undo/Redo, Arm All, Solo/Mute Clear, Track Management, Click On/Off

16-Channel Mix Production Controller with Motorised Faders

| | | |
| --- | --- | --- |
| | | Incoming, expected 31/10/2023 |

£695.00£789.00

£695.00

8 touch-sensitive, 100 mm long-throw, motorized faders
8 Scribble Strip displays
Complete recording-transport controls: Play, Stop, Fast Forward, Rewind, Record, Loop
Drop Marker Next / Prev Marker Next / Prev Event
General session controls: Undo / Redo, All Arm, Solo / Mute Clear, Track Management, Click On / Off with tap tempo

8-Channel Mix Production Controller with Motorised Faders

| | | |
| --- | --- | --- |
| | | Only 1 in stock, immediate despatch |

£393.00£489.00

£393.00

4 screaming-loud (130 mW per channel) stereo ¼" headphone outputs (front panel)
2 balanced ¼" line outputs (monitor outputs)
2 balanced ¼" line inputs
Headphone level control for each channel
Mono summing switch for each channel

These headphone amps are louder than you're ever likely to need for session and stage use

| | | |
| --- | --- | --- |
| | | Only 1 in stock, immediate despatch |

£108.00£119.00

£108.00

Includes a 2x2 USB Audio Interface with MIDI I/O
A pair of Eris E3.5 Speakers
A pair of HD7 Studio Monitoring Headphones
An M7 Condenser Microphone
Over $1000 worth of software

Everything you need to record & produce in one box

| | | |
| --- | --- | --- |
| | | Only 1 in stock, immediate despatch |

£231.00£299.00

£231.00

High resolution drivers
Precision-tuned acoustic chamber
Extended bass response
Built tough to withstand abuse
Auto-fit head pads

Professional studio headphones

| | | |
| --- | --- | --- |
| | | Incoming, expected 31/10/2023 |

£38.00£49.00

£38.00

Large Main level control
3 Individual Main Source (ST1, ST2, Aux) select switches
3 Individual Speaker Select switches
Cue section with Source select (ST1, ST2, Aux) and output-level control
Aux-S/PDIF Select switch

Manage multiple audio sources and speakers all from your desktop

| | | |
| --- | --- | --- |
| | | Only 1 in stock, immediate despatch |

£229.00£285.00

£229.00

7-inch woven composite low-frequency transducer
1-inch (25.4 mm), ultra-low-mass, silk-dome, high-frequency transducer
100°(H) x 60°(V) EBM waveguide and ported enclosure
Tuning Controls for accurate mixing contour (Level, HPF, LF Trim, HF Trim, Acoustic Space)
140 Watt, Class AB bi-amplification drives up to 102 dB of sound

2-Way Active Studio Monitors with EBM Waveguide

| | | |
| --- | --- | --- |
| | | In stock, immediate despatch |

£119.00£175.00

£119.00

7-inch woven composite low-frequency transducer
1-inch (25.4 mm), ultra-low-mass, silk-dome, high-frequency transducer
100°(H) x 60°(V) EBM waveguide and ported enclosure
Tuning Controls for accurate mixing contour (Level, HPF, LF Trim, HF Trim, Acoustic Space)
140 Watt, Class AB bi-amplification drives up to 102 dB of sound

2-Way Active Studio Monitors with EBM Waveguide

| | | |
| --- | --- | --- |
| | | In stock, immediate despatch |

£249.00£389.97

£249.00

Trigger loops and effects and play virtual instruments with 16 full-size, velocity- and pressure-sensitive RGB pads
MIDI Keyboard mode, Note Repeat mode, and Full Velocity mode to customize instrument control (Application dependent)
4 programmable rotary encoders and 20 assignable buttons, navigate and set more parameters faster
Pressure switchable between MIDI aftertouch, channel pressure, and CC messages
Selectable pad velocity curves and pad pressure thresholds
Includes Studio One Artist & Ableton Live Lite DAW software

An intuitive MIDI pad controller, tight integration with Studio One & Ableton Live

| | | |
| --- | --- | --- |
| | | Only 1 in stock, immediate despatch |

£110.99£129.00

£110.99

Simultaneous I/O up to 2 inputs/2 outputs
2 mic/instrument/line inputs with XMAX-L mic preamps
2 balanced ¼" TRS main outputs
1 stereo headphone output
MIDI In/Out

Features two XMAX-L Mic Preamps

| | | |
| --- | --- | --- |
| | | Incoming, expected 31/10/2023 |

£99.00£129.00

£99.00

Simultaneous I/O up to 2 inputs/4 outputs
2 mic/instrument/line inputs with XMAX-L mic preamps
2 balanced ¼" TRS main outputs
Includes software worth over $1000
2 balanced ¼" TRS line outputs for monitor mixing

Features two XMAX Analog Mic Preamps

| | | |
| --- | --- | --- |
| | | Only 1 in stock, immediate despatch |

£137.50£169.00

£137.50