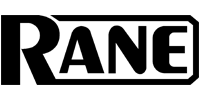 RANE might not be a name that springs to mind when you first thing of DJ equipment, but trust us when we say, they don't do things by half. Over the years they have produced some stunning pieces of equipment, designed with flair and beauty, and even though you might not consider them to be one of the big names in the industry, over the years they have gone about their business in the right way.
RANE DJ Products from The Disc DJ Store
Within the range of Rane products you will find the Rane SL2 Serato Scratch Live Digital Vinyl System, the Rane Sixty One Mixer For Serato Scratch Live and the Rane TTM57 MKII Serato Battle Mixer. These are just a few of the top products that you can get your hands on if you choose to shop online at The Disc DJ Store.
Rane equipment is reliable, and for those of you who haven't heard of them, we can assure you that your DJ experience will be a sensational one if you purchase from the Rane range.
Depending on what you want to achieve, Rane DJ equipment will do the job properly for you. You don't have to spend fortunes in the process, and you certainly don't have to worry about the products letting you down. Rane are super effective and efficient in the way they work. this is probably because the good guys at Rane have spent a lot of time and money developing their product range to bring the best products they possibly can.
If you are looking for Rane DJ equipment then you have come to the right place. Please take the time to browse through our product range and find a solution that suits your needs.
If you have any questions regarding any of the RANE DJ equipment
which we supply, please don't hesitate in contacting one of our technical support team today, who will be happy to answer any questions you might have.
We are an authorised dealer for Rane, please browse below to view all of our Rane products.
The world's most advanced Serato Stems DJ controller with dedicated Stems pad mode
Dynamic internal FX engine with 22 MAIN FX, 4 knob-controlled CHANNEL FX, and access to Serato DJ software FX
16 Performance Pads with dedicated OLED Pad Mode displays for visual feedback
Full size, 8.5" high-resolution capacitive static platters with full-colour centre display
4-channel mixer section and deck selection buttons for mixing with up to 4 software decks

The world's most advanced Serato Stems DJ Controller

| | | |
| --- | --- | --- |
| | | In stock, immediate despatch |

£1,318.01£1,649.99

£1,318.01

Intuitive high-performance layout
(3) MAG FOUR contactless faders
External crossfader tension-adjustment control
Solid steel construction & front guard handle protection
(6) Dual post-fader internal FLEX FX engines

Awesome setup for Serato DJ users

| | | |
| --- | --- | --- |
| | | Estimated restock 01/01/2024 |

£2,299.00£2,699.97

£2,299.00

7.2-inch Motorised Platters with Quick Release Acrylic Disks
Trusted RANE Build Quality and Feel
Instant Access Software FX with 2 Metal FX Paddles
Ultra-light MAG FOUR Crossfader
High/Low-pass Filter & 3 Band EQ

A totally unique controller for Pro's. Unlocks Serato DJ Pro.

| | | |
| --- | --- | --- |
| | | Estimated restock is 5-30 days |

£1,579.00

£1,579.00

7.2-inch Motorised Platters with Quick Release Acrylic Disks
Trusted RANE Build Quality and Feel
Instant Access Software FX with 2 Metal FX Paddles
Ultra-light MAG FOUR Crossfader
High/Low-pass Filter & 3 Band EQ

A totally unique controller for Pro's. Unlocks Serato DJ Pro.

| | | |
| --- | --- | --- |
| | | Estimated restock is 5-30 days |

£1,479.00

£1,479.00

7.2-inch Motorised Platters with Quick Release Acrylic Disks
Trusted RANE Build Quality and Feel
Instant Access Software FX with 2 Metal FX Paddles
Ultra-light MAG FOUR Crossfader
High/Low-pass Filter & 3 Band EQ

A totally unique controller for Pro's. Unlocks Serato DJ Pro.

| | | |
| --- | --- | --- |
| | | Estimated restock is 5-30 days |

£1,559.00

£1,559.00

7.2-inch Motorised Platters with Quick Release Acrylic Disks
Trusted RANE Build Quality and Feel
Instant Access Software FX with 2 Metal FX Paddles
Ultra-light MAG FOUR Crossfader
High/Low-pass Filter & 3 Band EQ

A totally unique controller for Pro's. Unlocks Serato DJ Pro.

| | | |
| --- | --- | --- |
| | | Estimated restock is 5-30 days |

£1,329.00£1,349.99

£1,329.00

7.2-inch Motorised Platters with Quick Release Acrylic Disks
Trusted RANE Build Quality and Feel
Instant Access Software FX with 2 Metal FX Paddles
Ultra-light MAG FOUR Crossfader
High/Low-pass Filter & 3 Band EQ

A totally unique controller for Pro's. Unlocks Serato DJ Pro.

| | | |
| --- | --- | --- |
| | | Estimated restock is 5-30 days |

£1,199.00£1,299.99

£1,199.00

Full 12" vinyl with motorized platter to control playback
Traditional, familiar turntable layout—no need to learn something new
Strip Search with 8 hot-cue-triggers access
MIDI interface via USB that can be connected to the SEVENTY-TWO or your computer
Serato DJ OSA-ready

USB MIDI controller turntable for Serato

| | | |
| --- | --- | --- |
| | | Only 1 in stock, no more available |

£550.00£699.00

£550.00

(3) MAG FOUR faders with reverse, contour and cut-in adjustment
External and internal crossfader tension adjust controls
Toggle Instant Double / Silent Cue / Sync Controls
4.3-inch Touchscreen for moving wave display, FX control, song selection and user customizations
Serato DJ Pro DVS license, Pitch n Time plus Serato DVS Vinyl included

2-Channel mixer with multi-touch screen for pro battle DJ's

| | | |
| --- | --- | --- |
| | | Estimated restock 01/01/2024 |

£1,679.00£1,699.99

£1,679.00

(3) MAG FOUR faders with reverse, contour and cut-in adjustment
External and internal crossfader tension adjust controls
Toggle Instant Double / Silent Cue / Sync Controls
4.3-inch Touchscreen for moving wave display, FX control, song selection and user customizations
Serato DJ Pro DVS license, Pitch n Time plus Serato DVS Vinyl included

Every turntablists dream set-up

| | | |
| --- | --- | --- |
| | | Estimated restock 01/01/2024 |

£3,059.00£3,139.97

£3,059.00

Lightest and Smoothest RANE fader
Ultra Wide fader TANG for high performance activity
Fully interchangeable on RANE SEVENTY, SEVENTY-TWO & SEVENTY-TWO MKII models.

Replacement cross fader for RANE SEVENTY / SEVENTY-TWO / SEVENTY-TWO MKII

| | | |
| --- | --- | --- |
| | | Only 2 in stock, immediate despatch |

£79.00£84.99

£79.00

Intuitive high-performance layout
(3) MAG FOUR contactless faders
External crossfader tension-adjustment control
Solid steel construction & front guard handle protection
(6) Dual post-fader internal FLEX FX engines

Solid steel, precision battle mixer for Serato DJ

| | | |
| --- | --- | --- |
| | | Estimated restock 01/01/2024 |

£1,499.00£1,499.99

£1,499.00

Intuitive high-performance layout
(3) MAG FOUR contactless faders
External crossfader tension-adjustment control
Solid steel construction & front guard handle protection
(6) Dual post-fader internal FLEX FX engines

| | | |
| --- | --- | --- |
| | | Estimated restock 01/01/2024 |

£2,899.00£2,939.97

£2,899.00

DVS/USB MIDI Control for Serato DJ Pro, Traktor and Virtual DJ
OLED Screen, Control Selection & BPM display
Navigation control: Scroll/Load, Back & Instant Doubles
New Plunger-style Start/Stop button
Full 12-inch motorised platter to control playback

12-inch motorised turntable controller with a true vinyl-like touch

| | | |
| --- | --- | --- |
| | | In stock, immediate despatch |

£594.77£719.99

£594.77

DVS/USB MIDI Control for Serato DJ Pro, Traktor and Virtual DJ
OLED Screen, Control Selection & BPM display
Navigation control: Scroll/Load, Back & Instant Doubles
New Plunger-style Start/Stop button
Full 12-inch motorised platter to control playback

12-inch motorised turntable controllers with a true vinyl-like touch

| | | |
| --- | --- | --- |
| | | Only 2 in stock, immediate despatch |

£1,399.00£1,439.98

£1,399.00