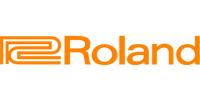 Are you in the market for high quality studio and sound equipment? If so look no further than the superior Roland range. Roland have been in the audio industry for decades and have not only created some of the most authentic sounding and ground breaking pieces of studio equipment the industry has ever seen, they have taken creativity to a completely new realm. Roland offer the entire studio production package with their expansive range of synthesisers, audio interfaces, effects modules and MIDI keyboards perfect for beginners through to professionals.
Proud to be an Authorised UK Dealer for Roland
Studio production can seem very daunting when you first look into the possibilities however their is plenty of choice in the Roland range regardless of your experience. What we love about the Roland studio production equipment is its ability to develop with your experience and skill set. From first entering the studio market you will find a fantastic range of synthesisers, sound consoles and modules available. However over time your tastes will change, your skill set will improve and your understanding of the inner workings of the studio environment will improve. With the Roland range of equipment you will find even the entry level equipment can take you to a different level altogether. The most basic Roland synthesiser can outperform some of the more expensive counterparts. This is the mark of a true industry professional and in Roland studio equipment we are sure you will find a match for life.
We stock DJ and studio equipment from all of the leading brands and are authorised dealers for many of them. With over 30 years of combined DJ/studio experience we are very proud of what we have achieved at The Disc DJ Store and hope you enjoy browsing our website. We are able to give you the best advice and guidance possible when it comes to finding the right item. Everyone who works here has a passion for music, DJing and the equipment itself, and can point you in the right direction if you need assistance.
We are sure most of you will have a solid understanding of what it is you need, but if you need some help, all you need to do is call 01274 394 730. Customer satisfaction is paramount to The Disc DJ Store, as you will see if you have read our Trust Pilot reviews. Take advantage of the knowledge we possess and get in touch with The Disc DJ Store today. One of our experienced team will always be happy to help you.
We are an authorised dealer for Roland, browse below to view all of our Roland products.
Powerful Roland synthesizer with advanced sonic capabilities
Intuitive panel layout and hands-on workflow make it easy to learn synthesis and sound design
Newly developed hybrid sound engine with one wavetable oscillator and two virtual analog oscillators
Attractive aluminium panel filled with high-quality knobs and sliders
Freely assignable modulation routings for fast sound creation

Wavetable and virtual analogue engines, intuitive sound design workflow, expressive hands-on controls, Model Expansion support, and more.

| | | |
| --- | --- | --- |
| | | Stock due on 04/10/2023 |

£778.00

£778.00

Ultra-portable polysynth inspired by the legendary SH-101
Square, sawtooth, sub, and noise oscillators
Comprehensive connectivity with audio, MIDI, and sync I/O plus AIRA Link
Easy-to-use arpeggiator with eight phrase types
Lithium-ion battery with up to 4.5 hours of operation per charge

An innovative musical toolbox with creative chord sequencing and authentic JUNO-60 sound

| | | |
| --- | --- | --- |
| | | Only 1 in stock, no more available |

£149.00£181.00

£149.00

Ultra-portable polysynth inspired by the legendary SH-101
Square, sawtooth, sub, and noise oscillators
Comprehensive connectivity with audio, MIDI, and sync I/O plus AIRA Link
Easy-to-use arpeggiator with eight phrase types
Lithium-ion battery with up to 4.5 hours of operation per charge

An innovative musical toolbox with creative chord sequencing and authentic JUNO-60 sound

| | | |
| --- | --- | --- |
| | | Incoming, expected 15/10/2023 |

£139.00£181.00

£139.00

OSC Models include the new SH-4d native engine, Wavetable, Cross FM, JUNO-106, SH-101, and more
Multitimbral sequencer with 128 patterns, real-time recording, two step-entry modes, and motion recording
USB-C audio/MIDI interface and 5-pin MIDI I/O
Clock input for synchronizing with modular synths and other Roland gear
Rugged portable design powered by batteries or USB-C

11 OSC Models, pro sound design tools, multitimbral pattern sequencer, extensive effects & more. Future/Retro

| | | |
| --- | --- | --- |
| | | Only 1 in stock, immediate despatch |

£544.00

£544.00

Sounds and features inherited from the flagship FANTOM series
Seamless workflow with no confusing modes
Light and durable molded body design for easy transport
Play and produce with thousands of electronic and acoustic sounds powered by Roland's advanced ZEN-Core and SuperNATURAL technologies
New SuperNATURAL pianos with authentic acoustic grand sound and response

Unify your creative vision. The new Roland flagship workstation.

| | | |
| --- | --- | --- |
| | | Only 1 in stock, immediate despatch |

£1,499.00£1,781.00

£1,499.00

Flagship synthesizer and workstation with powerful DSP
Wide range of controls including encoders, sliders and RGB pads
Premium hammer-action keybed for authentic playability
Powerful and versatile sound engine with TR-REC style sequencer
Versatile analog and digital connectivity and DAW integration

Flagship synth with powerful DSP

| | | |
| --- | --- | --- |
| | | Only 1 in stock, immediate despatch |

£3,415.00£3,937.00

£3,415.00

All new synthesis engine brings the Jupiter into the future
Compact synthesizer with a 61-note keyboard
Reproduces the JUPITER-8, JUNO-106, SH-101, XV-5080, and much more
Cutting edge I-Arpeggio function brings artificial intelligence to your performance
Easy to use with clear displays and controls

Featuring the revolutionary 'ZEN-Core Synthesis System'

| | | |
| --- | --- | --- |
| | | Only 1 in stock, immediate despatch |

£1,966.00£2,432.00

£1,966.00

Lightweight and compact design for easy transport and setup
Ivory feel piano-touch keyboard (PHA-4) for world-class playability
New SuperNATURAL pianos and electric pianos based on acclaimed RD series
Easy to use interface optimized for performance
Three zones with external control and Apple MainStage integration

Acclaimed RD sound and playability in a lighter, more accessible, and more affordable instrument.

| | | |
| --- | --- | --- |
| | | Only 2 in stock, immediate despatch |

£949.00£1,150.00

£949.00

Easy-to-carry 61-note performance keyboard with professional sounds for all music styles
Weighs just 12 lb. 3 oz./5.5 kg and runs on AC or battery power
Instant access to organ, piano, and synth sounds via dedicated panel sections
Virtual Tone Wheel Organ reproduces authentic vintage organ sounds
Three onboard rotary effects, including a newly developed rock rotary type

Lightweight, affordable, and outfitted with top-level Roland sounds, the V-Combo VR-09-B is the ideal all-in-one solution for performing keyboard players.

| | | |
| --- | --- | --- |
| | | Only 1 in stock, immediate despatch |

£599.00£679.00

£599.00

Flagship synth module with over 6,000 sounds built in
The latest SuperNATURAL sounds with enhanced Behavior Modeling technology for expressive acoustic instruments and accurate reproduction of performance articulations
Powerful SuperNATURAL synth engine with fat analog synth models and vintage filter types
Dynamic SuperNATURAL drum engine with natural tonal change derived from Roland V-Drums
Producer's "must-have" SRX Expansion sound library built in; all 12 SRX titles included

Powerhouse rack for fast, fluid workflow

| | | |
| --- | --- | --- |
| | | Only 1 in stock, immediate despatch |

£1,375.00£1,715.00

£1,375.00

88-note Ivory Feel-G Keyboard with weighted-action feel in a lightweight design that's easy to transport
Gig-ready instrument with pro sounds, enhanced performance features, battery-powered operation, and intuitive operation
Instant access to essential pro-quality sounds for band performance, from acoustic and electric pianos, organs, synths and other stage favorites
Wave expansion slot enables users to download new sound waveforms, available for free at Roland's Axial website
Sample import function for playing user WAV files on the JUNO-DS88's keyboard

88-note mobile synth with great sounds and hands-on operation for ambitious bands

| | | |
| --- | --- | --- |
| | | Only 1 in stock, immediate despatch |

£818.00£1,068.00

£818.00

Professional performance instrument with essential sounds for gigging musicians
73-note waterfall keyboard with semi-weighted action for authentic organ and electric piano performances
Mobile, easy-to-carry design weighs just 21 lb. 14 oz./9.9 kg and runs on AC or battery power
Instant access to organ, piano, and synth sounds via dedicated panel sections
Virtual Tone Wheel Organ reproduces authentic vintage organ sounds

Top-quality organ, electric piano, acoustic piano, and synth sounds in a travel-ready instrument with a 73-note waterfall keyboard.

| | | |
| --- | --- | --- |
| | | Only 1 in stock, immediate despatch |

£1,085.00£1,199.00

£1,085.00

49 full-sized keys with velocity and channel aftertouch
4 parts + vocoder with mic Input
320 programs and over 500 preset tones for keytarists
79 types of part multi-effects and part EQ, 79 types of program multi-effects, chorus, reverb, master compressor, and master EQ
Tone Remain function switches sounds seamlessly without unnatural sound cutoff

49-key ultimate performance synthesizer keytar

| | | |
| --- | --- | --- |
| | | Incoming, expected 15/10/2023 |

£835.00£900.00

£835.00

Over 1300 brass waveforms derived from legacy SRX and SR-JV80 expansion boards
100 ready-to-play patches have a variety of individual instruments and brass sections
Waveforms capture true articulations and feel
Digital Circuit Behavior (DCB) faithfully captures every detail of the original hardware
Intuitive user interface with deep sound-shaping parameters

Realistic Horn Sounds from Classic Roland Wave Expansion Boards

| | | |
| --- | --- | --- |
| | | In Stock, Digital Delivery |

£63.00£68.40

£63.00

1251 waveforms and 50 ready-to-play patches
Recorded in high definition with the finest mics and converters
Every note sampled with multi-tone velocity switching
Intuitive user interface with deep sound-shaping parameters
Enhance sounds with built-in reverb, chorus, and 78 multi-effects types

Soul-Infused EPs and Clavinets from the SRX Series

| | | |
| --- | --- | --- |
| | | In Stock, Digital Delivery |

£63.00£68.40

£63.00

Over 1500 waveforms and 422 orchestral patches
Digital Circuit Behavior (DCB) captures every detail of the original hardware
Intuitive user interface with deep sound-shaping parameters
Enhance sounds with built-in reverb, chorus, and 78 multi-effects types
Save customized sounds in unlimited user banks

Versatile Orchestra Sounds from Classic Roland Wave Expansion Boards

| | | |
| --- | --- | --- |
| | | In Stock, Digital Delivery |

£65.60£68.40

£65.60

Based on the Concert Piano title in the legacy SRX wave expansion board series
Exceptional concert grand piano sound
Digital Circuit Behavior (DCB) faithfully captures every detail of the original hardware
Intuitive user interface with deep sound-shaping parameters
Enhance sounds with built-in reverb, chorus, and 78 multi-effects types

A Rare and Elegant Concert Piano from the SRX Series

| | | |
| --- | --- | --- |
| | | In Stock, Digital Delivery |

£60.50£68.40

£60.50

Based on the Complete Piano title in the legacy SRX wave expansion board series
Stunning grand piano sound with 88-note multi-sampling and four-way velocity switching
Digital Circuit Behavior (DCB) faithfully captures every detail of the original hardware
Intuitive user interface with deep sound-shaping parameters
Enhance sounds with built-in reverb, chorus, and 78 multi-effects types

| | | |
| --- | --- | --- |
| | | In Stock, Digital Delivery |

£59.90£68.40

£59.90

128 patches with sectional and ensemble sounds and multiple articulations
Digital Circuit Behavior (DCB) faithfully captures every detail of the original hardware
Intuitive user interface with deep sound-shaping parameters
Enhance sounds with built-in reverb, chorus, and 78 multi-effects types
Save customized sounds in unlimited user banks

A Premier European Orchestra at Your Fingertips

| | | |
| --- | --- | --- |
| | | In Stock, Digital Delivery |

£59.90£68.40

£59.90

1605 waveforms, 128 patches, and 12 rhythm sets
Digital Circuit Behavior (DCB) captures every detail of the original hardware
Intuitive user interface with deep sound-shaping parameters
Enhance sounds with built-in reverb, chorus, and 78 multi-effects types
Save customized sounds in unlimited user banks

The Sounds of a First-Call Session Band in a Single Plug-In

| | | |
| --- | --- | --- |
| | | In Stock, Digital Delivery |

£65.60£68.40

£65.60

Nearly 2000 waveforms derived from legacy SRX and SR-JV80 expansion boards
407 patches and 10 rhythm sets
Digital Circuit Behavior (DCB) captures every detail of the original hardware
Intuitive user interface with deep sound-shaping parameters
Enhance sounds with built-in reverb, chorus, and 78 multi-effects types

Globe-Spanning Sounds from Classic Roland Wave Expansion Boards

| | | |
| --- | --- | --- |
| | | In Stock, Digital Delivery |

£65.60£68.40

£65.60

1702 waveforms and 393 patches
Digital Circuit Behavior faithfully captures every detail of the original hardware
Intuitive user interface with deep sound-shaping parameters
Enhance sounds with built-in reverb, chorus, and 78 multi-effects types
Save customized sounds in unlimited user banks

Ultimate Keyboards from the '90s

| | | |
| --- | --- | --- |
| | | In Stock, Digital Delivery |

£65.60£68.40

£65.60

Model Expansion for FANTOM with all-new synth engine
Two wavetable oscillator layers, each with 63 wavetables
Draw your own waveforms on FANTOM's touchscreen
Multimode resonant filters, including vintage models
Dual Step-LFOs with 37 shapes per step

A modern and powerful new synthesizer engine for FANTOM.

| | | |
| --- | --- | --- |
| | | Only 2 in stock, immediate despatch |

£141.60£147.60

£141.60

Roland vocal synthesis expansion for JUPITER-X and JUPITER-Xm
Classic and modern vocoder sounds
Choir and ensemble sounds
26 algorithms from vintage to modern
Fully editable carrier tones using any ZEN-Core preset or user tone

Vocal synthesis expansion for JUPITER-X and JUPITER-Xm.

| | | |
| --- | --- | --- |
| | | In Stock, Digital Delivery |

£147.00£147.60

£147.00

ZEN-Core Synthesis System with full editing capabilities
Over 3500 patches and drum kits, easily expandable to over 7000
Powerful ZEN-Core synth architecture with up to four partials per tone
4 oscillators with 9 virtual analog waveforms, Supersaw, noise, PCM, and PCM SYNC
1840 PCM waveforms, easily expandable to over 7000

Roland's new expandable Software Synthesizer

| | | |
| --- | --- | --- |
| | | In Stock, Digital Delivery |

£218.00£226.80

£218.00

Onboard stereo speakers and Bluetooth® audio support
Newly developed JUNO-X Model with Super Saw oscillator, velocity sensitivity, Chorus III effect, and more
Authentic Models of the JUNO-60 and JUNO-106 synths from the 1980s
Versatile sounds from the XV-5080, RD-series pianos, and Roland's classic vocoder
User slot for loading Model Expansions such as the JUPITER-8, JD-800, Vocal Designer and others from Roland Cloud

Vintage heart. Modern muscle

| | | |
| --- | --- | --- |
| | | In stock, immediate despatch |

£1,369.00£1,729.00

£1,369.00

Authentic recreation of the JUPITER-4 synthesizer using enhanced ACB technology
Detailed interface gives the feel of working with the vintage hardware
Double the polyphony of the original hardware (selectable from two to eight notes)
Circuit Mod function lets you tweak the sonic character in real time
Extended parameters, advanced arpeggiator, onboard effects, and more

the original classic - reborn!

| | | |
| --- | --- | --- |
| | | In Stock, Digital Delivery |

£141.60£147.60

£141.60

Vocal performance tool with powerful voice transformer effects
Instantly shape the sound with pitch and formant sliders
Advanced vocal effects including Auto Pitch, harmony, and vocoder
Dial up unique rhythmic effects with the Scatter knob
Process the sound output with high-quality reverb, echo, tempo delay, and chorus effects

Vocalize and jam with powerful voice transformation tools, high-quality effects, and an onboard looper

| | | |
| --- | --- | --- |
| | | In stock, immediate despatch |

£139.00£181.00

£139.00

Ultra-portable rhythm and bass machine with genuine Roland sounds
Six rhythm tracks with sounds from the influential TR-808, TR-909, and TR-606 drum machines
Bass track with sawtooth/square waveforms and hands-on controls derived from the TB-303 Bass Line
Analog Circuit Behavior (ACB) technology faithfully recreates the tonality and behavior of vintage Roland instruments
Classic TR-REC drum sequencer with 64 user patterns and up to 32 steps each

Iconic TR drum and TB bass sounds come together in a pocket-sized powerhouse

| | | |
| --- | --- | --- |
| | | Only 1 in stock, immediate despatch |

£142.00£181.00

£142.00

Portable song creation machine with professional Roland sound and features
Create with 100 chord sets spanning classic and contemporary music genres
Add arpeggios and rhythmic phrases to chords via nine styles with 12 variations in each
Programmable chord sequencer with 64 user patterns and up to 64 steps in each
Four-voice JUNO-60 synth engine with authentic sound realized through Analog Circuit Behavior (ACB) technology

An innovative musical toolbox with creative chord sequencing and authentic JUNO-60 sound

| | | |
| --- | --- | --- |
| | | In stock, immediate despatch |

£145.00£181.00

£145.00

Authentic sound and behavior of the original JD-800 realized with advanced sound modeling
108 original waveforms for extensive patch design possibilities
Includes the original 64 presets plus 21 new presets
Two-part, 64-step polyphonic sequencer with motion recording, random pattern generator, and memory for 128 patterns
Detailed recreation of the JD-800's unique two-stage multi-effects section

The JD-800 was a favourite for top electronic music producers through the '90s and beyond.

| | | |
| --- | --- | --- |
| | | Incoming, expected 15/10/2023 |

£319.00£388.00

£319.00

Authentic JX-8P sound and behavior with PG-800 programmer functions included
Includes 32 presets from the original JX-8P plus 111 new presets
17 new effect types including JUNO-106 chorus, SDD-320 reverb, lo-fi comp, super filter, pitch shifter, and more
Two-part, 64-step polyphonic sequencer with motion recording, random pattern generator, and memory for 128 patterns
Expanded polyphony compared to the original hardware

In 1985, Roland's innovative JX-8P took hybrid synthesis a step further.......

| | | |
| --- | --- | --- |
| | | Incoming, expected 15/10/2023 |

£293.00£388.00

£293.00