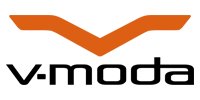 V-Moda is a leading manufacturer of super high quality headphones used in audio production, gaming and DJ'ing. V-MODA is the direct result of an intuition that came to company CEO Val Kolton after a summer in Ibiza, where he experienced the world's greatest DJs and clubs, and the unique vibe of the White Isle. He wanted to somehow capture this contemporary culture, combining the love of great sound with a globe-trotting lifestyle driven by a need for music, fashion and art.
V-Moda Products from The Disc DJ Store
We are an authorised dealer for V-Moda, please browse below to view all of our V-Moda products.
Premium sound crafted for wireless listening
Sound signature customisable with the V-MODA mobile app
Bluetooth 5.1 and premium audio codecs
Built-in easy access to voice assistants
Up to 30 Hours of playback wirelessly

Next-generation Bluetooth headphones with evolved sound, enhanced codec support, and extended battery life

| | | |
| --- | --- | --- |
| | | Estimated restock is 5-30 days |

£249.00£299.00

£249.00

Premium sound crafted for wireless listening
Sound signature customisable with the V-MODA mobile app
Bluetooth 5.1 and premium audio codecs
Built-in easy access to voice assistants
Up to 30 Hours of playback wirelessly

Next-generation Bluetooth headphones with evolved sound, enhanced codec support, and extended battery life

| | | |
| --- | --- | --- |
| | | Estimated restock is 5-30 days |

£249.00£299.00

£249.00

Premium sound crafted for wireless listening
Sound signature customisable with the V-MODA mobile app
Bluetooth 5.1 and premium audio codecs
Built-in easy access to voice assistants
Up to 30 Hours of playback wirelessly

Next-generation Bluetooth headphones with evolved sound, enhanced codec support, and extended battery life

| | | |
| --- | --- | --- |
| | | Estimated restock is 5-30 days |

£249.00£299.00

£249.00

Closed back, over-ear minimalist design for perfect noise isolation and fit
50mm drivers certified for Hi-Res Audio
Metal-build core for superior durability, premium PU leather exterior for comfort
Adjustable SteelFlex headband ideal for single ear monitoring and studio recording
Replaceable magnetic memory foam cushions

A reference over-ear studio headphone for precision listening, mixing and mastering

| | | |
| --- | --- | --- |
| | | Only 1 in stock, immediate despatch |

£294.00£299.00

£294.00

Customizable audio controllable via the in-app EQ tool
10 levels of hybrid active noise cancellation controllable via the V-MODA app
Lightweight durable metal build with flexible PU leather headband
"Voice In" smart feature to momentarily lower volume and pause ANC
20 hours of ANC-activated playback (10 minutes FastCharge = 1.5 hours)

Wireless headphone with hybrid active noise cancellation

| | | |
| --- | --- | --- |
| | | Only 2 in stock, immediate despatch |

£358.40£471.00

£358.40

50mm Dual-Diaphragm with Japanese CCAW coil drivers
Exoskeleton Carry Case &Carabiner Clip included
Aramid Fiber-Reinforced SpeakEasy 1-Button Microphone Cable
Reinforced Extended SharePlay Audio Cable
Gold Plated ¼" pro adapter

The new Crossfade M-100 Master are Hi-Res Audio certified by the Japan Audio Society (JAS).

| | | |
| --- | --- | --- |
| | | Estimated restock is 5-30 days |

£199.00£253.00

£199.00

Headphone Cable With Built-In Microphone
Ideal For Podcasting, Gaming & Conference Calls
SteelFlex Arm For Perfect Positioning
Designed For V-Moda Crossfade Headphones
Compatible With Tablets, Smartphones & More

Ultimate clarity for gaming and calls - fits all V-Moda Headphones

| | | |
| --- | --- | --- |
| | | Only 1 in stock, no more available |

£31.00£34.99

£31.00

Detachable cable
Portable exoskeleton case inc.
Customisable
Built to last
Immersive 3D sound

Used by many of the world's top DJs. Premium in every way.

| | | |
| --- | --- | --- |
| | | Only 2 in stock, immediate despatch |

£145.06£179.00

£145.06